Looking For Something?
Just Ask!
Try Our New Voice Activated Search Today -

You'll Love It!
Xbox One Xbox One Wasteland 3
Xbox One Wasteland 3 "The RPG series that pioneered the post-apocalyptic genre returns with Wasteland 3. Following the critically acclaimed release of 2014 Game of the Year winner Wasteland 2, Wasteland 3 takes players from the radioactive heat of the American Southwest to the perpetual nuclear winter of Colorado. You are a Desert Ranger, fighting a losing battle to keep your beloved Arizona alive, when the self-proclaimed Patriarch of Colorado radios, promising aid if you'll do a job he can only entrust to an outsider - rescue his land from the ambitions of his three bloodthirsty children. So you travel from the scorching deserts to the frozen mountains and start from scratch, building a new base, finding a snow-worthy vehicle, training new recruits, and fighting your way through hostile wilderness - all the while trying to decide who to trust in this land torn apart by corruption, intrigue, warring factions, crazed cultists, cutthroat gangs, and bitter sibling rivalries. Pegi 18 Xboxone Gaming Age Rating: 18Yrs +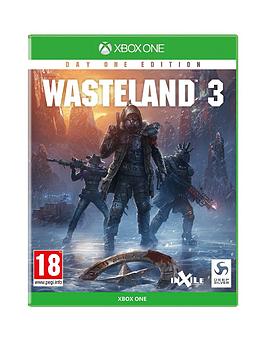 XBOX ONE WASTELAND 3 REVIEWS
Verified Order - Purchased On: Saturday, 2nd July 2022
---
Never any problems finding just what I want with Easy Shop. With so many items to choose from and with the built in voice search it's just so easy.

Verified Order - Purchased On: Thursday, 30th June 2022
---
I know from my last online ordering experience at Easy Shop I know first hand that the products they sell are absolutely first class and really exceptionally high quality too.

Verified Order - Purchased On: Wednesday, 29th June 2022
---
I could not believe it when I found out that this Wasteland 3 just sold out elsewhere ... I mean I really had my heart set on this. Then I Easy Shop and thankfully they still had some left in stock!

Verified Order - Purchased On: Monday, 27th June 2022
---
Lovely experience ordering online with Easy Shop. I ordered this Wasteland 3 from them and it arrived the next working day.

Verified Order - Purchased On: Sunday, 26th June 2022
---
Placing my order online for this Wasteland 3 was so easy, simple and hassle free - especially with the intelligent post code address look up feature.

Verified Order - Purchased On: Friday, 24th June 2022
---
So after my first experience with Easy Shop I decided to order some more, and the selection of products they have on offer is second to none and the delivery is fast!