Looking For Something?
Just Ask!
Try Our New Voice Activated Search Today -

You'll Love It!
Sonos Sonos Sonos One Sl Wireless Multi-room Speaker
Sonos One Sl Wireless Multi-Room Speaker
The Sonos One SL Wireless Multi-room Speaker gives you a superior audio performance for all your wireless streaming. The Sonos One SL does not include built-in microphones or voice control. Treat your ears to superior sound performance - this Sonos One SL is sleek and compact but packs an impressive musical punch. Simply download the free Sonos Controller app to your smartphone or tablet, connect your Sonos speaker to your home WiFi network and you're ready to roll in minutes. Amazon Music, Spotify, Deezer, Apple Music, Internet Radio and many other streaming services are supported. Clever Trueplay tuning measures the acoustics in any room, then fine-tunes your Sonos One to make the music sound great, no matter where you place your speaker. Bring all your favourite music, radio stations and podcasts to life in high-quality audio. Hook up more than one Sonos speaker and you've got the option of listening to the same music around the house or different tracks through each speaker – all controlled by the same app. You can also link 2 of them with the Sonos PLAYBAR (available separately, see item number 4D46P) to create a superb home theatre system. The Sonos One can also be used as a rear speaker in a home theatre setup with the Sonos Beam, Playbase, or Playbar. Blue Tooth: N Depth: 174 MM Height: 247 MM Width: 174 MM Components: N Digital Recorder: N Dongle Required: N Surround Sound: Y Wifi Enabled: Y Get rich, room-filling sound with Sonos One SL, and control it with the Sonos app, Apple AirPlay 2, and more. The compact design fits just about any space. Put it on your kitchen countertop or tuck it away on your office bookshelf. Stream sound directly from your iPhone or iPad and ask Siri to play Apple Music with Apple AirPlay 2. Pair with Sonos One or another One SL in the same room for stereo separation and more detailed sound. Use a pair as rear home cinema surrounds with Playbar, Playbase, or Beam.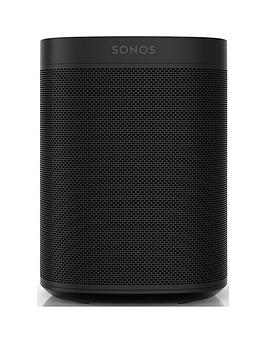 SONOS ONE SL WIRELESS MULTI-ROOM SPEAKER REVIEWS
Verified Order - Purchased On: Saturday, 24th October 2020
---
Never any problems finding just what I want with Easy Shop. With so many items to choose from and with the built in voice search it's just so easy.

Verified Order - Purchased On: Thursday, 22nd October 2020
---
I know from my last online ordering experience at Easy Shop I know first hand that the products they sell are absolutely first class and really exceptionally high quality too.

Verified Order - Purchased On: Wednesday, 21st October 2020
---
I could not believe it when I found out that this One Sl Wireless Multi-Room Speaker just sold out elsewhere ... I mean I really had my heart set on this. Then I Easy Shop and thankfully they still had some left in stock!

Verified Order - Purchased On: Monday, 19th October 2020
---
Lovely experience ordering online with Easy Shop. I ordered this One Sl Wireless Multi-Room Speaker from them and it arrived the next working day.

Verified Order - Purchased On: Sunday, 18th October 2020
---
Placing my order online for this One Sl Wireless Multi-Room Speaker was so easy, simple and hassle free - especially with the intelligent post code address look up feature.

Verified Order - Purchased On: Friday, 16th October 2020
---
So after my first experience with Easy Shop I decided to order some more, and the selection of products they have on offer is second to none and the delivery is fast!