Looking For Something?
Just Ask!
Try Our New Voice Activated Search Today -

You'll Love It!
Sofa.com Sofa.com Iggy 2.5 Seater Sofa
Sofa.com Sofa.Com Iggy 2.5 Seater Sofa
Sofa.com Iggy Fabric 2.5 Sofa - choose from 17 Colours across 6 Fabrics H 91 x W 164 x D 95 cm Classic good looks Iggy's unmistakable style comes from the slender sloping arms, English oak finished legs and a comfy seating space that all adds up to a beautifully refined piece of furniture. Choose from 17 fab colours, which are spread across 6 different types of fabric. Cotton Matt Velvet - Butterscotch, Olive, Peony Made from a pure 100% cotton fabric, its matt finish creates a soft, luxurious texture. House Basket Pumice - Natural Created for a neutral look that lets you add bright splashes of colour in other areas, it's been crafted with a chunkier fibre that results in a woven basket effect. House Herringbone - Pumice, Uniform Another neutral option, this simple yet eye-catching design is made from 100% cotton for a delectably soft finish. Smart Cotton - Admiral, Battleship Grey, Eucalyptus, Moon This 100% cotton upholstery has been treated to a Teflon coating, which takes away the stress when one of the kids drops their juice or one of your friends lets a glass of wine slip! Simply wipe away any spillages before they have a chance to set. Smart Linen - Mercury, Oat Wonderfully soft and breezy, its Teflon coating gives it a durable finish that lets you wipe away everything from felt tip to tomato sauce before it dries. Smart Velvet - Armour, Earl Grey, Lychee, Neptune, Sapphire Also Teflon-coated to prevent spillages from sinking in too quickly, the 80% cotton ensures it still feels super luxurious thanks to a short pile that makes them oh-so soft to touch. Please remember to measure your available space before ordering. Dimensions: Height 91, Width 164, Depth 95 cm (approx.) Depth: 95 CM Height: 91 CM Width: 164 CM Back Type: Removable And Reversible Standard Back Cushion Number of Seats: 2 Seat Construction: Removable And Reversible Seat Cushion Seat Height (in cm): 53 Lifetime Frame Guarantee Covers - Fixed With Removable Cushion Covers Frame Construction - Solid Beechwood Leg Finish - English Oak Leg height - 15cm Seat depth - 59cm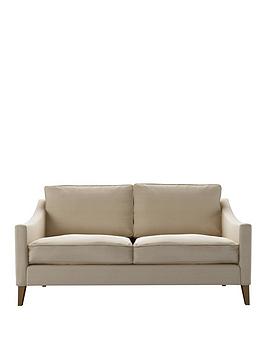 SOFA.COM SOFA.COM IGGY 2.5 SEATER SOFA REVIEWS
Verified Order - Purchased On: Friday, 16th April 2021
---
Never any problems finding just what I want with Easy Shop. With so many items to choose from and with the built in voice search it's just so easy.

Verified Order - Purchased On: Wednesday, 14th April 2021
---
I know from my last online ordering experience at Easy Shop I know first hand that the products they sell are absolutely first class and really exceptionally high quality too.

Verified Order - Purchased On: Tuesday, 13th April 2021
---
I could not believe it when I found out that this Sofa.Com Iggy 2.5 Seater Sofa just sold out elsewhere ... I mean I really had my heart set on this. Then I Easy Shop and thankfully they still had some left in stock!

Verified Order - Purchased On: Sunday, 11th April 2021
---
Lovely experience ordering online with Easy Shop. I ordered this Sofa.Com Iggy 2.5 Seater Sofa from them and it arrived the next working day.

Verified Order - Purchased On: Saturday, 10th April 2021
---
Placing my order online for this Sofa.Com Iggy 2.5 Seater Sofa was so easy, simple and hassle free - especially with the intelligent post code address look up feature.

Verified Order - Purchased On: Thursday, 8th April 2021
---
So after my first experience with Easy Shop I decided to order some more, and the selection of products they have on offer is second to none and the delivery is fast!