Looking For Something?
Just Ask!
Try Our New Voice Activated Search Today -

You'll Love It!
Singer Singer Xl420 Futura Embroidery Sewing Machine
Singer Xl420 Futura Embroidery Sewing Machine
Get creative with the Singer Futura XL-420 Sewing & Embroidery Machine. Buy this Singer sewing machine between 03.04.20 and 31.07.20 to enter a draw to win a place at a special Sewing Class with TV personality Patrick Grant. For full T&Cs, see www.singerco.co.uk/patrick The Singer Futura XL-420 sewing, quilting and embroidery machine includes innovative features that allow you to do more than ever before. With an endless hoop, a knee lifter for hands-free presser foot lifting, extra wide space for quilting, and 200 new embroidery designs - including endless designs - it's just what you need to make your sewing creativity truly limitless. It also comes with the basic Futura software included on a CD, and once installed on your PC, you can choose from 200 embroidery designs such as floral, holiday, children, frames and more. Three hoops are included a large hoop (10" x 6") for embroidering large designs, a small hoop (4" x 4") for embroidering small designs, and an Endless Hoop (6.75" x 4") for effortlessly embroidering beautiful borders for projects like pillowcases, table runners, quilts and more. Your PC and the machine are connected via the included USB cable. Once you have selected your design on the PC, simply transfer the design to the machine and begin embroidering. When you're finished embroidering, the machine easily converts to sewing mode. There are 30 built-in stitches including basic, stretch, decorative and more. Buttonholes are sewn in one easy step, and there are 2 styles to choose from. Threading is a breeze thanks to the SwiftSmart™ Threading System. The Drop & Sew™ Bobbin System saves time because it picks up the bobbin thread for you. Six LED lights illuminate both sides of the needle, eliminating shadows. Engage the Programmable Needle Up/Down to have your needle stop down in the fabric, which is great for applique, pivoting around a pocket corner or free-motion sewing. The Speed Control feature lets you set your machine's maximum sewing speed just the way you want it – slower for intricate projects like applique, or faster for free-motion sewing or long seams. Button Hole: 1 Step Buttonhole Depth: 410 MM Height: 335 MM Width: 770 MM Differential Speed: Y Number of Builtin Stitches: 30 Number of Thread: 2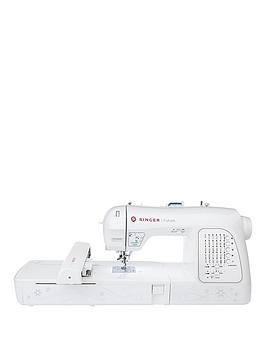 SINGER XL420 FUTURA EMBROIDERY SEWING MACHINE REVIEWS
Verified Order - Purchased On: Friday, 26th February 2021
---
Never any problems finding just what I want with Easy Shop. With so many items to choose from and with the built in voice search it's just so easy.

Verified Order - Purchased On: Wednesday, 24th February 2021
---
I know from my last online ordering experience at Easy Shop I know first hand that the products they sell are absolutely first class and really exceptionally high quality too.

Verified Order - Purchased On: Tuesday, 23rd February 2021
---
I could not believe it when I found out that this Xl420 Futura Embroidery Sewing Machine just sold out elsewhere ... I mean I really had my heart set on this. Then I Easy Shop and thankfully they still had some left in stock!

Verified Order - Purchased On: Sunday, 21st February 2021
---
Lovely experience ordering online with Easy Shop. I ordered this Xl420 Futura Embroidery Sewing Machine from them and it arrived the next working day.

Verified Order - Purchased On: Saturday, 20th February 2021
---
Placing my order online for this Xl420 Futura Embroidery Sewing Machine was so easy, simple and hassle free - especially with the intelligent post code address look up feature.

Verified Order - Purchased On: Thursday, 18th February 2021
---
So after my first experience with Easy Shop I decided to order some more, and the selection of products they have on offer is second to none and the delivery is fast!