Looking For Something?
Just Ask!
Try Our New Voice Activated Search Today -

You'll Love It!
Samsung Samsung Galaxy S10+ Black - 128gb
Samsung Galaxy S10+ Black - 128Gb
The Samsung Galaxy S10+ Black's deluxe display will amaze your eyes! Prepare to be amazed by the S10+ with its stunning screen, cutting-edge processing power and amazing cameras. It's IP68-rated dust/water-proof too. The 6.3 inch Infinity-O display brings websites, photos and movies to life like never before. It's beautifully minimalist, almost endless and crafted from flawless glass. It also comes with a handy screen protector. Shoot great photos with the triple lens set-up at the back, including ultra-wide and ultra-zoom. Get creative by shooting in Super Slow-mo or adding flair with filters. And when it's dark, you can still shoot vibrant photos in even the dimmest light. There's also a dual-lens snapper (including wide angle) on the front for superior selfies. With a cutting-edge Exynos 9820 processor, 8Gb RAM and Android Pie, you know everything happens incredibly fast, including streaming and downloads. The new Ultrasonic Fingerprint Scanner reads every ridge and notch of your finger, and because it sits under the screen your finger won't smudge your rear camera. It even performs in the cold and strong sunlight. Built-in wireless charging means your phone powers quickly and stays charged longer. You also get 128Gb of internal memory. The PowerShare feature makes it possible to bring a friend's phone back to life if it's drained. You can also stack your Galaxy Watch on top of your Galaxy S10+ and charge them at the same time - or top up your Galaxy Buds on the move! The new interface, One UI, works with the way you use your phone, so screens are uncluttered. With the SmartThings app already installed, it's never been so easy to take control of your SmartThings enabled devices. Camera: Y Front Facing Camera: Y Main Camera: Y Memory (in Gigabyte): 128 Operating System: Android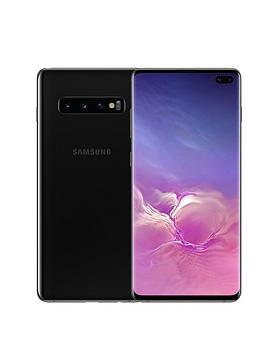 SAMSUNG GALAXY S10+ BLACK - 128GB REVIEWS
Verified Order - Purchased On: Monday, 19th April 2021
---
Never any problems finding just what I want with Easy Shop. With so many items to choose from and with the built in voice search it's just so easy.

Verified Order - Purchased On: Saturday, 17th April 2021
---
I know from my last online ordering experience at Easy Shop I know first hand that the products they sell are absolutely first class and really exceptionally high quality too.

Verified Order - Purchased On: Friday, 16th April 2021
---
I could not believe it when I found out that this Galaxy S10+ Black - 128Gb just sold out elsewhere ... I mean I really had my heart set on this. Then I Easy Shop and thankfully they still had some left in stock!

Verified Order - Purchased On: Wednesday, 14th April 2021
---
Lovely experience ordering online with Easy Shop. I ordered this Galaxy S10+ Black - 128Gb from them and it arrived the next working day.

Verified Order - Purchased On: Tuesday, 13th April 2021
---
Placing my order online for this Galaxy S10+ Black - 128Gb was so easy, simple and hassle free - especially with the intelligent post code address look up feature.

Verified Order - Purchased On: Sunday, 11th April 2021
---
So after my first experience with Easy Shop I decided to order some more, and the selection of products they have on offer is second to none and the delivery is fast!