Looking For Something?
Just Ask!
Try Our New Voice Activated Search Today -

You'll Love It!
Russell Hobbs Russell Hobbs 2400w Auto Steam Pro Iron 22520
Russell Hobbs 2400W Auto Steam Pro Iron 22520
The Russell Hobbs 22520 Auto Steam Pro Iron will work wonders on your laundry. The clever autosteam function delivers the correct amount of steam for your temperature setting, ensuring wrinkle-free results for all fabrics. Designed for maximum performance at a great value price, with a 2400-watt motor and a large 320ml water tank ensuring you can get plenty done before you have to start thinking refilling. With 45g/min of continuous steam and a non-stick soleplate that distributes steam and heat evenly at a controlled temperature, you can soon ease the creases out of all your clothes – and there's a powerful 130g burst of steam for tackling heavy fabrics. There's a handy vertical steam function that's ideal for getting the wrinkles out of hanging garments, curtains and upholstery. And it has a spray function If clothes have been left to dry for too long meaning creases have become a firm fixture. A self-cleaning function protects against scale damage, prolonging the performance and life of your iron. The 2m cord also lets you position your iron where you want even if you aren't close to a socket. Anti Scale: Y Detachable Water Tank: N Dry Tank Alert: N Non Drip: Y Soft Grip: Y Variable Steam: N Verticle Steam: N Non-stick soleplate 320ml water tank 2m cord length 45g cont steam/130g shot Soft touch handle Waterspray/Vertical spray Anti drip/Self clean 2400w * 2 years standard guarantee that can be extended to 3 years when you register your product at www.russellhobbs.co.uk/productregister You must register within 28 days of purchase.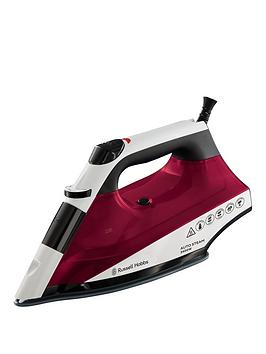 RUSSELL HOBBS 2400W AUTO STEAM PRO IRON 22520 REVIEWS
Verified Order - Purchased On: Friday, 16th April 2021
---
Never any problems finding just what I want with Easy Shop. With so many items to choose from and with the built in voice search it's just so easy.

Verified Order - Purchased On: Wednesday, 14th April 2021
---
I know from my last online ordering experience at Easy Shop I know first hand that the products they sell are absolutely first class and really exceptionally high quality too.

Verified Order - Purchased On: Tuesday, 13th April 2021
---
I could not believe it when I found out that this 2400W Auto Steam Pro Iron 22520 just sold out elsewhere ... I mean I really had my heart set on this. Then I Easy Shop and thankfully they still had some left in stock!

Verified Order - Purchased On: Sunday, 11th April 2021
---
Lovely experience ordering online with Easy Shop. I ordered this 2400W Auto Steam Pro Iron 22520 from them and it arrived the next working day.

Verified Order - Purchased On: Saturday, 10th April 2021
---
Placing my order online for this 2400W Auto Steam Pro Iron 22520 was so easy, simple and hassle free - especially with the intelligent post code address look up feature.

Verified Order - Purchased On: Thursday, 8th April 2021
---
So after my first experience with Easy Shop I decided to order some more, and the selection of products they have on offer is second to none and the delivery is fast!