Looking For Something?
Just Ask!
Try Our New Voice Activated Search Today -

You'll Love It!
Ring Ring Video Doorbell 3 Plus
Ring Video Doorbell 3 Plus
Keep an eye on your home with the Ring Video Doorbell 3 with Pre-Roll technology. Our premium battery-powered doorbell with advanced security features including improved motion detection, an added near motion zone and Pre-Roll technology. With an additional 4-second video preview of each motion event, you'll automatically start recording before you even receive an alert. Our premium battery-powered doorbell with 4-second Pre-Roll video previews. 1. 1080p HD video doorbell with enhanced features that lets you see, hear, and speak to anyone from your phone, table, or PC. 2. An upgrade from the original Ring Video Doorbell 2, enjoy improved motion detection and dual-band (2.4 of 50 GHz) wifi connectivity. 3. A step up from Video Doorbell 3, get 4 extra seconds of black and white video to show you what happened before motion was triggere with Pre-Roll. 4. Receive mobile notifications when anyone presses your doorbell or triggers your built-in motion sensors. 5. Easily setup by connecting your Ring Video Doorbell 3 to wifi through the Ring app and mounting with the included tools. 6. Record all your videos, review what you missed for up to 60 days, and share videos and photos for £2.50/month per device with a Ring Protect Plan. 7. Pair with select Alexa-enabled devices to enable announcements and two-way talk for convenient in-home monitoring. Runs on a rechargeable Quick-Release Battery Pack (included). Can be hardwired to an existing doorbell system or transformer for continuous charging (8-24 VAC, 40VA max, 50/60Hz). No halogen or garden-lighting transformers; no DC transformer/power supply. Estimated Install Time: approx 5 minutes. Warranty and Service: One year limited, lifetime theft protection. Availible Colours: Satin Nickel and Venetian Bronze (both colours included in the box) Depth: 28 MM Height: 128 MM Width: 62 MM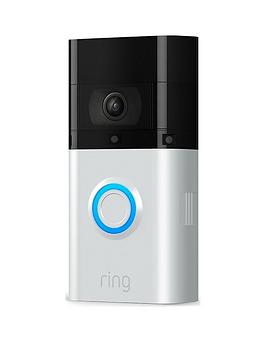 RING VIDEO DOORBELL 3 PLUS REVIEWS
Verified Order - Purchased On: Thursday, 13th May 2021
---
Never any problems finding just what I want with Easy Shop. With so many items to choose from and with the built in voice search it's just so easy.

Verified Order - Purchased On: Tuesday, 11th May 2021
---
I know from my last online ordering experience at Easy Shop I know first hand that the products they sell are absolutely first class and really exceptionally high quality too.

Verified Order - Purchased On: Monday, 10th May 2021
---
I could not believe it when I found out that this Video Doorbell 3 Plus just sold out elsewhere ... I mean I really had my heart set on this. Then I Easy Shop and thankfully they still had some left in stock!

Verified Order - Purchased On: Saturday, 8th May 2021
---
Lovely experience ordering online with Easy Shop. I ordered this Video Doorbell 3 Plus from them and it arrived the next working day.

Verified Order - Purchased On: Friday, 7th May 2021
---
Placing my order online for this Video Doorbell 3 Plus was so easy, simple and hassle free - especially with the intelligent post code address look up feature.

Verified Order - Purchased On: Wednesday, 5th May 2021
---
So after my first experience with Easy Shop I decided to order some more, and the selection of products they have on offer is second to none and the delivery is fast!