Looking For Something?
Just Ask!
Try Our New Voice Activated Search Today -

You'll Love It!
Ring Ring Alarm 5-piece Starter Kit
Ring Alarm 5-Piece Starter Kit
The RING Alarm 5-piece Starter Kit is easy to install and completely customisable to fit any home. Includes: Base Station, Keypad, 1 Contact Sensor, 1 Motion Detector, Range Extender. Welcome to your safer, smarter home. Ring Alarm easily expands to fit your needs. Simply plug in the Ring Base Station, connect your components, get set up with your account in the Ring app and control your Ring Alarm all with the Keypad or from the app. Everything you need to get started is in the box. Keep your Ring Alarm online and connected at all times. Connect the Base Station via Ethernet or Wi-Fi - and if the power goes down, you'll still be protected with battery power for up to 24 hours. With Ring Protect Plus, you can even benefit from cellular backup if your internet connection drops. Protect every entry: Mount Contact Sensors to doors or window frames so you always know when they open. Mount Motion Detectors to room corners or flat walls and choose to get audio or mobile notifications whenever motion is detected inside your home. This system is also pet-friendly so you don't get unnecessary notifications from pets weighing under approx 22 kgs. Mount the Keypad to any flat wall or simply leave it on a nearby surface for everyday convenience. Add multiple keypads around the house for easier access. You also also expand your security in the future by adding Range Extenders throughout your home to extend the signal from your Alarm Base Station to all Alarm components, so you can make sure your security coverage stays strong and clear. Complete control with the Ring app - get real-time notifications to your phone when someone enters a room, opens a window or sets off the siren. Easily change your Alarm modes, sync all your Ring devices to the app and monitor them from one simple dashboard. Easily come and go withoutbworrying about triggering the alarm. You'll also be the first to know when something happens while you're out. Depth: 35 MM Height: 166 MM Width: 168 MM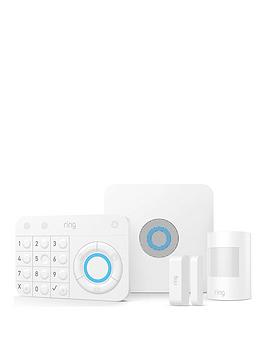 RING ALARM 5-PIECE STARTER KIT REVIEWS
Verified Order - Purchased On: Thursday, 22nd April 2021
---
Never any problems finding just what I want with Easy Shop. With so many items to choose from and with the built in voice search it's just so easy.

Verified Order - Purchased On: Tuesday, 20th April 2021
---
I know from my last online ordering experience at Easy Shop I know first hand that the products they sell are absolutely first class and really exceptionally high quality too.

Verified Order - Purchased On: Monday, 19th April 2021
---
I could not believe it when I found out that this Alarm 5-Piece Starter Kit just sold out elsewhere ... I mean I really had my heart set on this. Then I Easy Shop and thankfully they still had some left in stock!

Verified Order - Purchased On: Saturday, 17th April 2021
---
Lovely experience ordering online with Easy Shop. I ordered this Alarm 5-Piece Starter Kit from them and it arrived the next working day.

Verified Order - Purchased On: Friday, 16th April 2021
---
Placing my order online for this Alarm 5-Piece Starter Kit was so easy, simple and hassle free - especially with the intelligent post code address look up feature.

Verified Order - Purchased On: Wednesday, 14th April 2021
---
So after my first experience with Easy Shop I decided to order some more, and the selection of products they have on offer is second to none and the delivery is fast!