Looking For Something?
Just Ask!
Try Our New Voice Activated Search Today -

You'll Love It!
Panasonic Panasonic Panasonic Nn-st48ksbpq 32-litre Microwave
Panasonic Nn-St48Ksbpq 32-Litre Microwave
You will wonder how you ever lived without the versatile Panasonic NN-ST48KSBP Microwave. Easy Cooking For Families A large 32-litre interior is ideal for larger dishes to suit families. Cooking is easy with 25 auto programmes available, ranging from melting chocolate to making your favourite cake to cooking fresh fish and vegetables for your evening meal. Your daily routine us easier without the need to work out cooking times. Genius Sensor For Better Cooking The smart Genius Sensor ensures excellent cooking and reheating results for every meal. This detects the amount of vapour released from your food and automatically calculates the perfect cooking time and power that is required. Get Food On The Table Fast Panasonic's smart Inverter technology saves time and energy while guaranteeing your food is cooked faster. Just enter the weight and the microwave does the rest! A new way of cooking. Maintains perfect power control to ensure your meals are cooked gently and evenly to retain essential nutrients and vitamins. Healthy Eating For Kids The convenient pre-programmed Junior Menu makes it easy to conjure up delicious meals for little ones. With three automatic programmes for vegetable puree, fruit puree and porridge ensuring that even picky eaters enjoy healthy delights. Auto Cook: Y Depth: 388 MM Height: 310 MM Width: 525 MM Convection Oven: N Defrost Options: Y Dishwasher Safe Parts: N Display Type: LED Touchscreen Finish: Stainless steel Grill: N Manual / Touch: Touch Microwave Power rating: 1000 Watts Number Power Levels: 7 Programmes: 25 One Touch Genius Sensor Reheating 32 Litre Capacity 1000 W Microwave Power 25 Individual Programmes Panasonic Inverter Technology Junior Menu Child Lock 34cm Turntable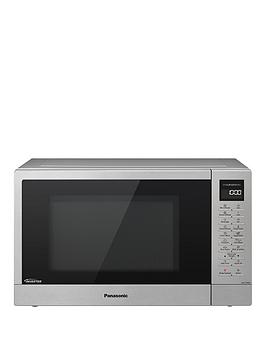 PANASONIC NN-ST48KSBPQ 32-LITRE MICROWAVE REVIEWS
Verified Order - Purchased On: Thursday, 13th May 2021
---
Never any problems finding just what I want with Easy Shop. With so many items to choose from and with the built in voice search it's just so easy.

Verified Order - Purchased On: Tuesday, 11th May 2021
---
I know from my last online ordering experience at Easy Shop I know first hand that the products they sell are absolutely first class and really exceptionally high quality too.

Verified Order - Purchased On: Monday, 10th May 2021
---
I could not believe it when I found out that this Nn-St48Ksbpq 32-Litre Microwave just sold out elsewhere ... I mean I really had my heart set on this. Then I Easy Shop and thankfully they still had some left in stock!

Verified Order - Purchased On: Saturday, 8th May 2021
---
Lovely experience ordering online with Easy Shop. I ordered this Nn-St48Ksbpq 32-Litre Microwave from them and it arrived the next working day.

Verified Order - Purchased On: Friday, 7th May 2021
---
Placing my order online for this Nn-St48Ksbpq 32-Litre Microwave was so easy, simple and hassle free - especially with the intelligent post code address look up feature.

Verified Order - Purchased On: Wednesday, 5th May 2021
---
So after my first experience with Easy Shop I decided to order some more, and the selection of products they have on offer is second to none and the delivery is fast!