Looking For Something?
Just Ask!
Try Our New Voice Activated Search Today -

You'll Love It!
Panasonic Panasonic Panasonic Es-lv67 Wet&dry 5-blade Electric Shaver
Panasonic Es-Lv67 Wet&Dry 5-Blade Electric Shaver
Panasonic Panasonic ES-LV67 Wet&Dry 5-Blade Electric Shaver Panasonic ES-LV67 Wet & Dry 5-Blade Electric Responsive Shaver provides a gentle, close shave. Using Panasonic's responsive Beard Sensor Technology, power is automatically adjusted to match your specific beard needs for a personalised shaving experience. Our responsive Beard Sensor Technology detects beard density 220 times per second*. This technology adjusts the power of the motor 14 times per second, making it one of the most responsive shavers to different beard thickness and density. *Panasonic Laboratory Stroboscope Testing, Japan. Featuring an ultra-fast motor for powerful, smooth shaving, the super neodymium magnet helps drive the blades extremely fast to deliver up to 70,000 cross-cutting actions per minute. No beard can slow this ultra-fast linear motor down, regardless of how thick it is. With steady cutting speed right until the battery runs out, you can be confident of getting a powerful, smooth shave every time. 5 Outer Blades are designed differently to capture all kinds of hairs. A: Quick Slit Blade with Comb: Provides improved pre-cutting of long hairs. B: Quick Lift Foil: Lifts up flat-lying hairs efficiently, especially on the neck and chin. C: Finishing Foil: With this extremely thin foil, longer hairs get a second, closer cut*. *Compared to the Panasonic 3-Blade Shaver, Panasonic Laboratory Testing. Accessory List: Travel Case Depth: 6 CM Height: 17 CM Width: 7.5 CM Power Type: Battery Trimmer Type: Beard clippers Panasonic's beard sensor technology reduces skin irritation by boosting or reducing power based on your beard density for a comfortable shave. The Ultra-fast motor provides 70,000 cross cutting action/ minute with no power loses or missed whiskers, 5 arched outer blades designed differently to capture and cut all kinds of hairs. Shaver head moves in 16 directions independently Ultra-sharp, 30° nano-polished inner blades enable cutting very close to the root to provide a superior and efficient shaving experience Outstandingly high quality steel blades wtih Japanese Blade Technology. Lithium Ion Battery provides 50 minute cordless use from 1 hour charge time. Pop-up trimmer is ideal for cutting missed stray hairs on your neck and grooming sideburns.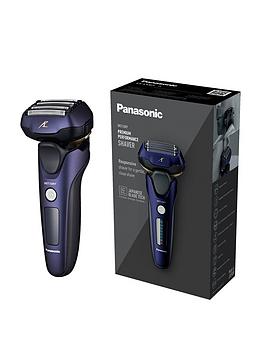 PANASONIC ES-LV67 WET&DRY 5-BLADE ELECTRIC SHAVER REVIEWS
Verified Order - Purchased On: Wednesday, 20th October 2021
---
Never any problems finding just what I want with Easy Shop. With so many items to choose from and with the built in voice search it's just so easy.

Verified Order - Purchased On: Monday, 18th October 2021
---
I know from my last online ordering experience at Easy Shop I know first hand that the products they sell are absolutely first class and really exceptionally high quality too.

Verified Order - Purchased On: Sunday, 17th October 2021
---
I could not believe it when I found out that this Es-Lv67 Wet&Dry 5-Blade Electric Shaver just sold out elsewhere ... I mean I really had my heart set on this. Then I Easy Shop and thankfully they still had some left in stock!

Verified Order - Purchased On: Friday, 15th October 2021
---
Lovely experience ordering online with Easy Shop. I ordered this Es-Lv67 Wet&Dry 5-Blade Electric Shaver from them and it arrived the next working day.

Verified Order - Purchased On: Thursday, 14th October 2021
---
Placing my order online for this Es-Lv67 Wet&Dry 5-Blade Electric Shaver was so easy, simple and hassle free - especially with the intelligent post code address look up feature.

Verified Order - Purchased On: Tuesday, 12th October 2021
---
So after my first experience with Easy Shop I decided to order some more, and the selection of products they have on offer is second to none and the delivery is fast!