Looking For Something?
Just Ask!
Try Our New Voice Activated Search Today -

You'll Love It!
Mio Mio Pilot 15 Lm
MIO Mio Pilot 15 Lm
Mio Pilot 15 LM Powerful turn-by-turn navigation Designed with integrated award-winning GPS navigation software powered by advanced routing algorithms, the Pilot¿ 15 LM quickly and effortlessly calculates your route. With simple and clear visual and audio guidance, the device will help you reach your destination. Lifetime map updates Never worry about road changes or closures thanks to the device¿s built-in Lifetime Map Updates. Connect your device to your PC, install the MioMore¿ Desktop Software and you¿ll always know when there¿s an update available, so that you won¿t get lost. Easy-to-use car navigation Designed with QuickStart, the Pilot¿ 15 LM has a simplified menu and QuickSpell Search so you can set your destination in seconds. At the simple tap of a finger your destination is set and your route is ready. Optimized routing With optimized routing, the Pilot 15 LM calculates the fastest timing or shortest distance to reach your destination. So, whether you are working on a schedule or want to save on fuel, the Pilot 15 LM is there for you. Bigger screen for bigger journeys Made to wow, the Pilot¿ 15 LM has a 5¿ extra-large touch screen with 480 x 272 display resolution, allowing for clear, widescreen viewing. The smooth touchscreen ensures inputting your journey is easy and the large screen means you don¿t need to take your eyes off the road. Spoken street names so you never lose your way With spoken street names, your Pilot¿ 15 LM will always help you find your way, wherever you may be. The device comes with integrated turn-by-turn voice guidance and Text to Speech (TTS) technology. Card Reader: N Depth: 15.3 MM Modern and powerful turn-by-turn car navigation Lifetime map updates Multiple routes option (easiest, shortest, eco, fastest) QuickSpell Search & Spoken street names (Text-to-speech) Lane guidance & speed alert Functions & Services: Lifetime Maps Height: 86.1 MM Interface: Y Preloaded Maps: Y Recommended Use: Car Speed Camera Warning: N Spoken Navigation: Y Touch Screen: Y Traffic: Y Width: 132.5 MM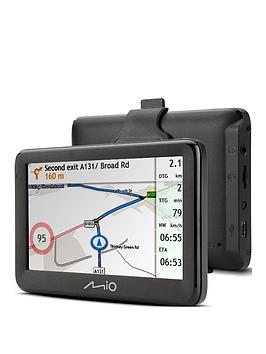 MIO MIO PILOT 15 LM REVIEWS
Verified Order - Purchased On: Tuesday, 2nd March 2021
---
Never any problems finding just what I want with Easy Shop. With so many items to choose from and with the built in voice search it's just so easy.

Verified Order - Purchased On: Sunday, 28th February 2021
---
I know from my last online ordering experience at Easy Shop I know first hand that the products they sell are absolutely first class and really exceptionally high quality too.

Verified Order - Purchased On: Saturday, 27th February 2021
---
I could not believe it when I found out that this Mio Pilot 15 Lm just sold out elsewhere ... I mean I really had my heart set on this. Then I Easy Shop and thankfully they still had some left in stock!

Verified Order - Purchased On: Thursday, 25th February 2021
---
Lovely experience ordering online with Easy Shop. I ordered this Mio Pilot 15 Lm from them and it arrived the next working day.

Verified Order - Purchased On: Wednesday, 24th February 2021
---
Placing my order online for this Mio Pilot 15 Lm was so easy, simple and hassle free - especially with the intelligent post code address look up feature.

Verified Order - Purchased On: Monday, 22nd February 2021
---
So after my first experience with Easy Shop I decided to order some more, and the selection of products they have on offer is second to none and the delivery is fast!