Looking For Something?
Just Ask!
Try Our New Voice Activated Search Today -

You'll Love It!
Mcafee Mcafee 2018 Total Protection 1 Device
Mcafee 2018 Total Protection 1 Device
McAfee McAfee 2018 Total Protection 1 Device Browse, bank, and shop safely with McAfee® Total Protection, which provides premium antivirus, identity, and privacy protection for your PCs, Macs, smartphones, and tablets¿ whenever your online. With a quick install, it blocks threats using antivirus that¿s verified by independent tests. Also includes the True Key¿ app, True Key¿ by Intel® Security recognizes your face or fingerprint, secures your passwords and instantly logs you in to your websites and apps across your devices. Devices Supported PC Windows, Mac, iOS smartphones and tablets w/ Apple Watch, Android smartphones and tablets with Android Watch ¿. Depth: 5 MM Award-winning antivirus blocks viruses, malware, ransomware, spyware, unwanted programs, and more on your PC. Anti-spam blocks dangerous messages before they reach your inbox by removing emails that may include risky links and viruses. File Lock helps keep your personal files private by storing them on your PC with a combination of password protection and encryption. Parental Controls block web sites and search results you don't want your kids to see. Also lets you set limits for how much time they spend online. McAfee® WebAdvisor warns you about risky websites and helps prevent dangerous downloads and phishing attacks. McAfee® Shredder™ tool protects your identity and privacy by permanently deleting important files from your PC. McAfee® QuickClean™ tool helps keep your PC running smoothly by removing cookies and temporary files that track you online. Vulnerability Scanner ensures your Windows software and other PC applications are up-to date. Security Management Console helps you manage your protection for all your devices from an easy-to-use web page. FREE Customer Support has you covered by phone, by chat, or online for the life of your subscription. Height: 190 MM Width: 125 MM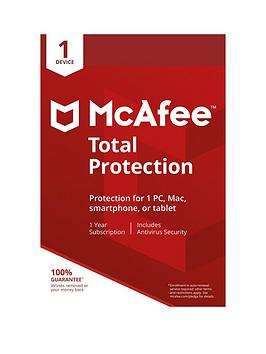 MCAFEE 2018 TOTAL PROTECTION 1 DEVICE REVIEWS
Verified Order - Purchased On: Monday, 1st March 2021
---
Never any problems finding just what I want with Easy Shop. With so many items to choose from and with the built in voice search it's just so easy.

Verified Order - Purchased On: Saturday, 27th February 2021
---
I know from my last online ordering experience at Easy Shop I know first hand that the products they sell are absolutely first class and really exceptionally high quality too.

Verified Order - Purchased On: Friday, 26th February 2021
---
I could not believe it when I found out that this 2018 Total Protection 1 Device just sold out elsewhere ... I mean I really had my heart set on this. Then I Easy Shop and thankfully they still had some left in stock!

Verified Order - Purchased On: Wednesday, 24th February 2021
---
Lovely experience ordering online with Easy Shop. I ordered this 2018 Total Protection 1 Device from them and it arrived the next working day.

Verified Order - Purchased On: Tuesday, 23rd February 2021
---
Placing my order online for this 2018 Total Protection 1 Device was so easy, simple and hassle free - especially with the intelligent post code address look up feature.

Verified Order - Purchased On: Sunday, 21st February 2021
---
So after my first experience with Easy Shop I decided to order some more, and the selection of products they have on offer is second to none and the delivery is fast!