Looking For Something?
Just Ask!
Try Our New Voice Activated Search Today -

You'll Love It!
Lg Lg 49sm8050 49 Inch, Ultra Hd 4k Nano Cell, Hdr, Smart Tv
LG Lg 49Sm8050 49 Inch, Ultra Hd 4K Nano Cell, Hdr, Smart Tv
The LG 49SM8050 49 inch 4K Smart TV's NanoCell technology creates a visual feast out of everything you watch. STUNNING PICTURE QUALITY Revolutionise the way you watch with a 3840 x 2160 UHD resolution backed by IPS 4K NanoCell technology that creates uniform colour, volume and outstanding picture quality by precisely placing pixels just one nanometre apart. Local Dimming ensures excellent contrast so you can always see what's happening, even in the darkest scenes. SMART WAYS TO WATCH We also love LG's award-winning Smart TV webOS, which gives you easy access to a huge range of apps to suit your interests, including Netflix and YouTube. ThinQ AI gives you voice control - just press the dedicated voice mic button on your Magic Remote control. With the ability to control Amazon Alexa from your TV, you can set the scene at home for your favourite show with a single command. DISNEY+ AND APPLE TV APPS Now included on the awarding-winning Smart TV WebOS are Disney+ and Apple TV apps (subscription required), supported by three dimensional immersive sound quality. FREEVIEW PLAY Freeview Play brings together all the best on-demand services as well as letting you catch up on shows you've missed in the last week on over 20 channels scrolling back through the guide. SLIM CINEMA SCREEN DESIGN The borders of the screen disappear as the sleek Nano Bezel design with the minimalist 2-feet stand is sure to harmonises with your space and offer sophisticated ambience. There's also nothing to distract your attention from what you are watching. WALL MOUNTABLE The VESA size for this TV is 200x200 (H X V) - The VESA Interface Standard defines the distance in millimetres between the 4 mounting holes on the back of a TV (distance horizontally x distance vertically). VESA is a standard used for TV brackets and wall mounting systems. Blue Tooth: Y Depth: 231 MM Height: 700 MM Width: 1096 MM Dongle Required: N Resolution: UHD Screen Size: 49" Wifi Enabled: Y LG NanoCell: the most advanced LED technology Exceptional 4K Ultra HD picture quality with pure and realistic colours Three dimensional Immersive sound quality Slim cinema screen design and minimalist two feet stand Award-winning easy to use smart platform LG webOS Use your voice to find your favourite programs and control your smart home with in-built Google Assistant and Alexa Larger viewing angle Energy Efficiency Rating: A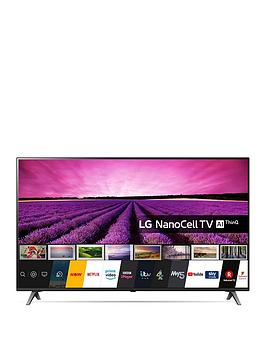 LG LG 49SM8050 49 INCH, ULTRA HD 4K NANO CELL, HDR, SMART TV REVIEWS
Verified Order - Purchased On: Monday, 17th May 2021
---
Never any problems finding just what I want with Easy Shop. With so many items to choose from and with the built in voice search it's just so easy.

Verified Order - Purchased On: Saturday, 15th May 2021
---
I know from my last online ordering experience at Easy Shop I know first hand that the products they sell are absolutely first class and really exceptionally high quality too.

Verified Order - Purchased On: Friday, 14th May 2021
---
I could not believe it when I found out that this Lg 49Sm8050 49 Inch, Ultra Hd 4K Nano Cell, Hdr, Smart Tv just sold out elsewhere ... I mean I really had my heart set on this. Then I Easy Shop and thankfully they still had some left in stock!

Verified Order - Purchased On: Wednesday, 12th May 2021
---
Lovely experience ordering online with Easy Shop. I ordered this Lg 49Sm8050 49 Inch, Ultra Hd 4K Nano Cell, Hdr, Smart Tv from them and it arrived the next working day.

Verified Order - Purchased On: Tuesday, 11th May 2021
---
Placing my order online for this Lg 49Sm8050 49 Inch, Ultra Hd 4K Nano Cell, Hdr, Smart Tv was so easy, simple and hassle free - especially with the intelligent post code address look up feature.

Verified Order - Purchased On: Sunday, 9th May 2021
---
So after my first experience with Easy Shop I decided to order some more, and the selection of products they have on offer is second to none and the delivery is fast!