Looking For Something?
Just Ask!
Try Our New Voice Activated Search Today -

You'll Love It!
Kenwood Kenwood Kenwood Chef Kitchen Machine
Kenwood Chef Kitchen Machine
The Kenwood Chef Kitchen Machine will look after all your food preparation needs. This versatile Kenwood food mixer features a 1000-watt motor capable of tackling anything from mixing cakes to blending soup to creating pastry. It uses Kenwood's famous planetary mixing action to ensure all your ingredients are perfectly mixed in the large 4.6-litre bowl, with no unstirred pockets. This can handle up to 2.72 kg of cake mix. With variable speed and pulse options, you can ensure optimum mixing whatever you are cooking up, from a fruit cake mix to a meringue, with speed and power maintained regardless of load. You even get a light in the bowl so you can exactly how things are going! The Kenwood Chef is designed to help passionate cooks create dishes to the highest standards. The included attachments (K beater, whisk and dough hook) and accessories are designed to match your imagination, from perfectly structured bread thanks to the dough hook, to extra fluffy egg whites and silky cake batters. A range of additional attachments is also available. Designed and engineered in the UK, it's bursting with innovative features to provide you with a truly sophisticated experience which will produce first class results time and time again. Depth: 28 CM Height: 30 CM Width: 38 CM Capacity - Litres: 4.3 1000W Planetary mix action, maintains speed and power even under heavy loads Large capacity, brushed stainless steel 4.6L mixing bowl. Electronic speed control with variable speeds to smoothly build up speed without causing spillage plus pulse function. In bowl tools include a Flat K-beater, Whisk and Dough Hook. Slow speed outlet gives you additional option to add extra attachments such as a meat mincer or pasta roller. High speed outlet gives you the opportunity to add attachments such as a food processor or blender. In total there are 20+ additional attachments. Splashguard One piece style with feed chute, easily fitted.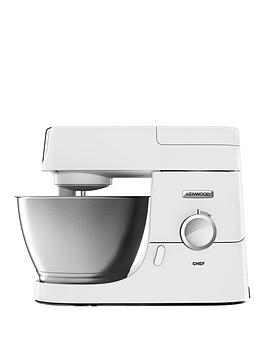 KENWOOD CHEF KITCHEN MACHINE REVIEWS
Verified Order - Purchased On: Tuesday, 13th April 2021
---
Never any problems finding just what I want with Easy Shop. With so many items to choose from and with the built in voice search it's just so easy.

Verified Order - Purchased On: Sunday, 11th April 2021
---
I know from my last online ordering experience at Easy Shop I know first hand that the products they sell are absolutely first class and really exceptionally high quality too.

Verified Order - Purchased On: Saturday, 10th April 2021
---
I could not believe it when I found out that this Chef Kitchen Machine just sold out elsewhere ... I mean I really had my heart set on this. Then I Easy Shop and thankfully they still had some left in stock!

Verified Order - Purchased On: Thursday, 8th April 2021
---
Lovely experience ordering online with Easy Shop. I ordered this Chef Kitchen Machine from them and it arrived the next working day.

Verified Order - Purchased On: Wednesday, 7th April 2021
---
Placing my order online for this Chef Kitchen Machine was so easy, simple and hassle free - especially with the intelligent post code address look up feature.

Verified Order - Purchased On: Monday, 5th April 2021
---
So after my first experience with Easy Shop I decided to order some more, and the selection of products they have on offer is second to none and the delivery is fast!