Looking For Something?
Just Ask!
Try Our New Voice Activated Search Today -

You'll Love It!
Hoover Hoover H-free 700 Pets Cordless Vacuum Cleaner
Hoover H-Free 700 Pets Cordless Vacuum Cleaner
The Hoover H-Free 700 Pets Vacuum gives you impressive cleaning power in a cordless cleaner. Innovative HSpin-Core technology provides the ultimate dust separation and easy bin-emptying. Fingertip controls allow you to select the optimal settings as you clean: whether you are sucking up crumbs in the kitchen, vacuuming your sofa or reaching up to dust the stairs. We love the powerful motorised mini turbo brush that lifts stubborn pet hairs from carpets, flooring and furniture - perfect for tidying up after your 4-legged friends. All this with no need to worry about find plug sockets while you clean. The soleplate has been engineered to cope with the rigorous demands of everyday home life, with the ability to suck up not only fine dust particles, but also on the larger pieces of food and other debris that tend to accumulate on kitchen floors. An Easy Driving System also lets you glide smoothly around obstacles, with a pivoting floor nozzle axis and a low profile foot. Integrated LED lights illuminate dark areas to ensure that no speck of dirt can hide. Powered by lithium-ion batteries, H-Free 700 delivers up to 35 minutes of suction power without fading: plenty of time to clean a typical sized home from top to bottom. Included are a selection of tools to help with cleaning your stairs, upholstery or car interior, plus there is an integrated crevice tool on the handheld. This enables you to switch from cleaning floors to tackle quick above floor cleaning tasks in just a few seconds. Also included is a wall mount and charging plug. Depth: 230 MM Height: 1160 MM Width: 250 MM Carpet Pickup: Y Cordless: Y Dust Collection: Bagless Handheld: Y Hardfloor Pickup: Y Run Time (in hrs): .5 Cordless cleaning power Up to 35 minutes runtime Removable handheld Hspin-Core separation technology Low profile design Emissions: n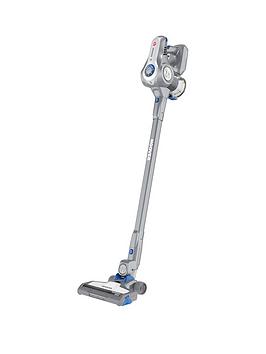 HOOVER H-FREE 700 PETS CORDLESS VACUUM CLEANER REVIEWS
Verified Order - Purchased On: Thursday, 25th February 2021
---
Never any problems finding just what I want with Easy Shop. With so many items to choose from and with the built in voice search it's just so easy.

Verified Order - Purchased On: Tuesday, 23rd February 2021
---
I know from my last online ordering experience at Easy Shop I know first hand that the products they sell are absolutely first class and really exceptionally high quality too.

Verified Order - Purchased On: Monday, 22nd February 2021
---
I could not believe it when I found out that this H-Free 700 Pets Cordless Vacuum Cleaner just sold out elsewhere ... I mean I really had my heart set on this. Then I Easy Shop and thankfully they still had some left in stock!

Verified Order - Purchased On: Saturday, 20th February 2021
---
Lovely experience ordering online with Easy Shop. I ordered this H-Free 700 Pets Cordless Vacuum Cleaner from them and it arrived the next working day.

Verified Order - Purchased On: Friday, 19th February 2021
---
Placing my order online for this H-Free 700 Pets Cordless Vacuum Cleaner was so easy, simple and hassle free - especially with the intelligent post code address look up feature.

Verified Order - Purchased On: Wednesday, 17th February 2021
---
So after my first experience with Easy Shop I decided to order some more, and the selection of products they have on offer is second to none and the delivery is fast!