Looking For Something?
Just Ask!
Try Our New Voice Activated Search Today -

You'll Love It!
Google Google Pixel 4 64gb - Black
Google Pixel 4 64Gb - Black
The Google Pixel 4 is slim, compact and full of the latest features. The 5.7 inch OLED Full HD+ screen (1080 x 2280) with 90Hz refresh rate brings everything to life in remarkable detail, buttery smooth movement and deep, rich colours. Super-tough Gorilla Glass 5 ensures it's hard to damage too. A Snapdragon 855 processor and 6GB RAM mean the Google Pixel 4 works at lightning speed, including large downloads and playing the latest games. Google's Face Unlock provides quick access and excellent security. Another clever feature is Motion Sensor , that lets you wave your hand to snooze alarms, skip tracks on Spotify and more. At the back, you'll find a 12.2MP wide-angle camera (1.4µm pixels, dual-pixel technology, phase-detection autofocus, image stabilisation, dual-flash) backed by a 16-MP, f/2.4 telephoto lens and Super Res Zoom technology that sharpens your images while zooming up to 8x. You can shoot photos and 4K video at 30fps well beyond your usual smartphone. There's also a dual-lens front camera with wide-angle 8MP lens backed up with a ToF sensor for superb selfies. The Active Edge features lets you simply squeeze your phone to summon Google Assistant, letting you ask for news, traffic updates, diary appointments, control smart gadgets and more simply using your voice. From passwords to the OS, Google's custom-made Titan M security chip helps protect your data. There's 64GB of internal storage for your photos and videos, while the Pixel's Adaptive Battery learns your favour apps and reduces power to those you rarely use. Enjoy up to 7 hours of use on a 15-minute charge with the 18W adaptor included. A 128GB version is also available - see item number QF4FH. Depth: 8.2 MM 5.7" OLED display 444ppi 1080x2280 pixels Qualcomm Snapdragon processor 2.84 GHz 6GB RAM 64GB Storage Gorilla Glass 5 5.0 LE Bluetooth 100000:1 contrast ratio NanoSIM + eSIM Proximity Sensor, Ambient Light Sensor, Accelerometer Quick charge Height: 147.1 MM Network: Sim Free Sim Type: Nano Width: 68.8 MM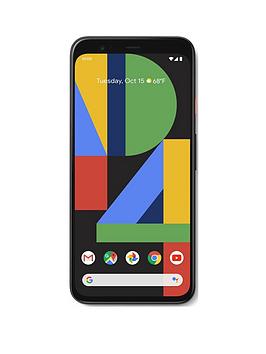 GOOGLE PIXEL 4 64GB - BLACK REVIEWS
Verified Order - Purchased On: Tuesday, 2nd March 2021
---
Never any problems finding just what I want with Easy Shop. With so many items to choose from and with the built in voice search it's just so easy.

Verified Order - Purchased On: Sunday, 28th February 2021
---
I know from my last online ordering experience at Easy Shop I know first hand that the products they sell are absolutely first class and really exceptionally high quality too.

Verified Order - Purchased On: Saturday, 27th February 2021
---
I could not believe it when I found out that this Pixel 4 64Gb - Black just sold out elsewhere ... I mean I really had my heart set on this. Then I Easy Shop and thankfully they still had some left in stock!

Verified Order - Purchased On: Thursday, 25th February 2021
---
Lovely experience ordering online with Easy Shop. I ordered this Pixel 4 64Gb - Black from them and it arrived the next working day.

Verified Order - Purchased On: Wednesday, 24th February 2021
---
Placing my order online for this Pixel 4 64Gb - Black was so easy, simple and hassle free - especially with the intelligent post code address look up feature.

Verified Order - Purchased On: Monday, 22nd February 2021
---
So after my first experience with Easy Shop I decided to order some more, and the selection of products they have on offer is second to none and the delivery is fast!