Looking For Something?
Just Ask!
Try Our New Voice Activated Search Today -

You'll Love It!
Google Nest Google Nest Hub Max - Charcoal
Staying in touch is easy with the Nest Hub Max Charcoal. A big help for your busy home, the Nest Hub Max helps your busy family stay in touch and on track. Thanks to the Google Assistant, you don't have to lift a finger - just use your voice. Keep everyone connected. Hey Google, call Mum. Make video calls to friends and family. And leave video messages for each other. You can also multi-task while you make video calls. With auto-framing, the camera keeps you in view as you move around the room. Requires an Internet connection to make video calls and leave video messages, Google Duo accounts required for you and call recipient. Depth: 250 MM In the box: Nest Hub Max, Power Adapter, Quick Start Guide, Safety & Warranty Booklet Height: 182 MM Width: 101 MM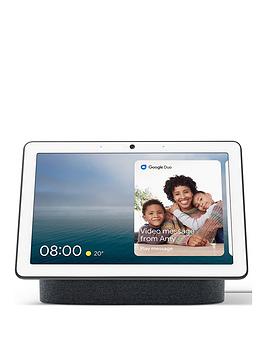 GOOGLE NEST HUB MAX - CHARCOAL REVIEWS
Verified Order - Purchased On: Thursday, 13th May 2021
---
Never any problems finding just what I want with Easy Shop. With so many items to choose from and with the built in voice search it's just so easy.

Verified Order - Purchased On: Tuesday, 11th May 2021
---
I know from my last online ordering experience at Easy Shop I know first hand that the products they sell are absolutely first class and really exceptionally high quality too.

Verified Order - Purchased On: Monday, 10th May 2021
---
I could not believe it when I found out that this Hub Max - Charcoal just sold out elsewhere ... I mean I really had my heart set on this. Then I Easy Shop and thankfully they still had some left in stock!

Verified Order - Purchased On: Saturday, 8th May 2021
---
Lovely experience ordering online with Easy Shop. I ordered this Hub Max - Charcoal from them and it arrived the next working day.

Verified Order - Purchased On: Friday, 7th May 2021
---
Placing my order online for this Hub Max - Charcoal was so easy, simple and hassle free - especially with the intelligent post code address look up feature.

Verified Order - Purchased On: Wednesday, 5th May 2021
---
So after my first experience with Easy Shop I decided to order some more, and the selection of products they have on offer is second to none and the delivery is fast!