Looking For Something?
Just Ask!
Try Our New Voice Activated Search Today -

You'll Love It!
Fitbit Fitbit Ionic: Adidas Edition Smartwatch
Fitbit Ionic: Adidas Edition Smartwatch
Commit to the extraordinary with the Fitbit Ionic: adidas Edition Smartwatch. Designed to inspire you to reach the next level of performance, this versatile smartwatch looks good as well as soundtracking your day and offering workout advice. You can change the band to suit your look too (available separately). adidas Train - Gives you unique workouts with step-by-step coaching to help make you a more dynamic runner. You can also access Fitbit Coach on-screen workouts like 10-Minute Abs. Multi-Sport & SmartTrack - Use workout modes for real-time stats on-screen or automatically track exercise with SmartTrack. Heart Rate Tracking - Get continuous, automatic heart rate tracking and real-time heart rate zones. Swim proof - Water resistant to 50m for wearing in the pool or rain. Tracks laps, duration and calories burned during swim workouts. Custom Clock Faces - Sport an adidas-designed clock face inspired by the iconic race bib. Store and Play Music - Keep more than 300 songs on your watch, plus download your own or curated playlists from Deezer**. Built-In GPS - See real-time pace and distance on display during outdoor runs and rides. Multi-Day Battery - Battery life of five days and up to 10 hours when using GPS (may vary with use, settings and other factors). Notifications & Payments - Instantly access call, text and calendar alerts and apps for weather, sports and more. The NFC chip also lets you access your credit cards to pay on-the-go. Activity & Sleep - Automatically track all-day activity and time in light, deep and REM sleep. Wireless Syncing - Automatically sync stats to 200+ leading iOS, Android and Windows devices **Deezer paid subscription is required. Depth: 256.5 MM Available with participating banks: Fitbit.com/fitbit-pay/banks Contact Fitbit online: https://help.fitbit.com Fitbit Support at: 0800 069 8505 Height: 12.4 MM Width: 38.6 MM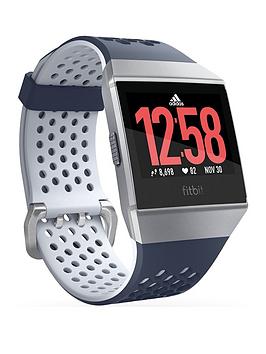 FITBIT IONIC: ADIDAS EDITION SMARTWATCH REVIEWS
Verified Order - Purchased On: Monday, 17th May 2021
---
Never any problems finding just what I want with Easy Shop. With so many items to choose from and with the built in voice search it's just so easy.

Verified Order - Purchased On: Saturday, 15th May 2021
---
I know from my last online ordering experience at Easy Shop I know first hand that the products they sell are absolutely first class and really exceptionally high quality too.

Verified Order - Purchased On: Friday, 14th May 2021
---
I could not believe it when I found out that this Ionic: Adidas Edition Smartwatch just sold out elsewhere ... I mean I really had my heart set on this. Then I Easy Shop and thankfully they still had some left in stock!

Verified Order - Purchased On: Wednesday, 12th May 2021
---
Lovely experience ordering online with Easy Shop. I ordered this Ionic: Adidas Edition Smartwatch from them and it arrived the next working day.

Verified Order - Purchased On: Tuesday, 11th May 2021
---
Placing my order online for this Ionic: Adidas Edition Smartwatch was so easy, simple and hassle free - especially with the intelligent post code address look up feature.

Verified Order - Purchased On: Sunday, 9th May 2021
---
So after my first experience with Easy Shop I decided to order some more, and the selection of products they have on offer is second to none and the delivery is fast!