Looking For Something?
Just Ask!
Try Our New Voice Activated Search Today -

You'll Love It!
Epson Epson Eco-tank Printer Et-2750
Epson Eco-Tank Printer Et-2750
Epson Eco-Tank Printer ET-2750 Claim £30 cashback when you purchase between 13.11.2019 and 01.03.2020. Claim by going to www.epson.co.uk/saveorshare. Meet Epson's next generation of EcoTank. This 3-in-1 provides a LCD screen, double-sided printing and ink. Designed for your convenience, this cartridge-free EcoTank comes with ink included. Providing a solution for busy households, this reliable and easy-to-use model features an enhanced ink filling system and new ink bottles engineered for mess-free refills. It also includes a 3.7cm LCD screen, SD card slot and double-sided printing. Precise results With Epson's Business Paper, you can print crisp texts and excellent colour graphics so it's ideal for the production of reports, memos, newsletters, and even homework. This 80gsm paper can be printed on both sides making it the perfect supplement to the latest generation of WorkForce printers. Printing is a partnership This paper has been specially developed to work with Epson's range of inks and printers to deliver the best possible quality. Ultra-low cost This economical printer can save 90% on ink costs on average. Giving you an extremely low cost-per-page, it produces 14,000 pages in black and 5,200 in colour with the included ink. Print from almost anywhere With Wi-Fi and Wi-Fi Direct, you can send documents to print from smart devices using the Epson iPrint app. Additionally, its 3.7cm LCD screen and SD card slot make it easy to print without a PC. Quality results With a Micro Piezo printhead, EcoTank provides a reliable printing solution which is backed by a one year warranty. It can also be relied upon to produce double-sided prints fast. Computing Accessory Type: Multifunction Printer Depth: 347 MM Dongle Required: N Ultra-low-cost printing Print up to 14,000 pages in black and 5,200 pages in colour Next generation ink filling system Enjoy hassle and mess-free refills with the enhanced ink bottles Wi-Fi & apps Print from mobile devices 3-in-1 with LCD screen Print, copy & scan - plus double-sided printing Height: 187 MM Width: 375 MM Wifi Enabled: Y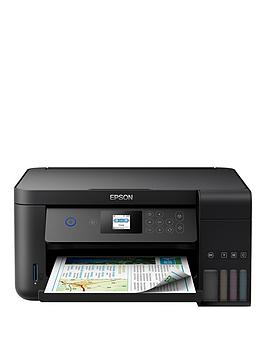 EPSON ECO-TANK PRINTER ET-2750 REVIEWS
Verified Order - Purchased On: Monday, 1st March 2021
---
Never any problems finding just what I want with Easy Shop. With so many items to choose from and with the built in voice search it's just so easy.

Verified Order - Purchased On: Saturday, 27th February 2021
---
I know from my last online ordering experience at Easy Shop I know first hand that the products they sell are absolutely first class and really exceptionally high quality too.

Verified Order - Purchased On: Friday, 26th February 2021
---
I could not believe it when I found out that this Eco-Tank Printer Et-2750 just sold out elsewhere ... I mean I really had my heart set on this. Then I Easy Shop and thankfully they still had some left in stock!

Verified Order - Purchased On: Wednesday, 24th February 2021
---
Lovely experience ordering online with Easy Shop. I ordered this Eco-Tank Printer Et-2750 from them and it arrived the next working day.

Verified Order - Purchased On: Tuesday, 23rd February 2021
---
Placing my order online for this Eco-Tank Printer Et-2750 was so easy, simple and hassle free - especially with the intelligent post code address look up feature.

Verified Order - Purchased On: Sunday, 21st February 2021
---
So after my first experience with Easy Shop I decided to order some more, and the selection of products they have on offer is second to none and the delivery is fast!