Looking For Something?
Just Ask!
Try Our New Voice Activated Search Today -

You'll Love It!
Very Claudia 2 Seater Fabric Sofa
Very Claudia 2 Seater Fabric Sofa
Claudia 2 Seater Fabric Sofa in Plum, Grey, Natural or Blue H 87 x W 148 x D 87 cm Introducing our Claudia collection - a stunning seating range with a modern shape, sumptuous fabric and versatile colour choice. A fibre filled seat cushion is removable; the fibre-filled back cushion is fixed. Contemporary design Based on the classic tub shape, the curvy contours of the arms merge into an integrated back cushion that's dressed up with two rows of deep buttons. A single seat cushion helps maintain the neat appearance, and it's finished with Scandi style splayed wooden legs which look particularly striking on wood floors. Perfect palette Temptingly textured yet reassuringly durable, the upholstery is available in a choice of neutral natural and grey shades or, if you prefer to make a colour statement, plum and blue options. Free Swatch Service Get a feel for this fabric before you buy with our FREE swatch service. Simply email SwatchOrder@ClickSpares.co.uk with your name and address, along with the sofa range name, item number, colour choice and the name of the retailer's website you're ordering from. Your swatches will be delivered within 5 working days (subject to availability). Platinum Delivery Service After taking your new furniture to your room of choice, a 2-person team will unpack, assemble and position it in your preferred place, then remove all the packaging. Please note: service excludes all Offshore Islands and Ireland. Please remember to measure your available space before ordering. DImensions: Height 87, Width 148, Depth 82 cm (approx.) Assembly: Part Assembled Depth: 82 CM Height: 87 CM Seat Cushion Filling: Fibre Filled Seat Cushion Width: 148 CM Care Kit: N Filling: Fibre Filled Back Cushion Number of Seats: 2 Seat Construction: Removable Seat Cushion Seat Height (in cm): 54 The cushion cover on this product is not suitable to be removed for washing. Professional cleaning only Please note, these cushions are non-machine washable and also not suitable for dry cleaning Seat firmness: Firm (based on internal sit test)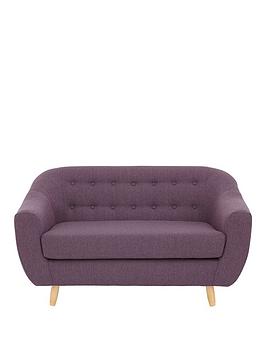 VERY CLAUDIA 2 SEATER FABRIC SOFA REVIEWS
Verified Order - Purchased On: Monday, 1st March 2021
---
Never any problems finding just what I want with Easy Shop. With so many items to choose from and with the built in voice search it's just so easy.

Verified Order - Purchased On: Saturday, 27th February 2021
---
I know from my last online ordering experience at Easy Shop I know first hand that the products they sell are absolutely first class and really exceptionally high quality too.

Verified Order - Purchased On: Friday, 26th February 2021
---
I could not believe it when I found out that this Claudia 2 Seater Fabric Sofa just sold out elsewhere ... I mean I really had my heart set on this. Then I Easy Shop and thankfully they still had some left in stock!

Verified Order - Purchased On: Wednesday, 24th February 2021
---
Lovely experience ordering online with Easy Shop. I ordered this Claudia 2 Seater Fabric Sofa from them and it arrived the next working day.

Verified Order - Purchased On: Tuesday, 23rd February 2021
---
Placing my order online for this Claudia 2 Seater Fabric Sofa was so easy, simple and hassle free - especially with the intelligent post code address look up feature.

Verified Order - Purchased On: Sunday, 21st February 2021
---
So after my first experience with Easy Shop I decided to order some more, and the selection of products they have on offer is second to none and the delivery is fast!