Looking For Something?
Just Ask!
Try Our New Voice Activated Search Today -

You'll Love It!
Canon Canon Powershot G7x Mkiii Camera Black
Canon Powershot G7X Mkiii Camera Black
Canon Canon PowerShot G7X MKIII Camera Black Ideal for vloggers, bloggers and anyone posting content on line, the Canon PowerShot G7 X Mark III helps you look your best with superb 4K video, a large 1-type sensor and 20.1-megapixel photos – all in a super-portable design you can take anywhere. Communicate your creativity Create content that defies expectations and surpasses what you're used to seeing from your smartphone. Incredible 4K video, sumptuous 20.1-megapixel photos and high-speed shooting that stops fleeting moments in time. Captivating video your audience will love Impress with 4K clarity and fast frame rates up to 120fps. A mic connection lets you record crystal clear audio and smartphone connectivity makes posting and livestreaming to YouTube easy. Create content your own way The Canon PowerShot G7 X Mark III makes it easy to get creative. Whether you're shooting portraits, selfies, panoramas or food a 20.1 megapixel sensor delivers superb results. Stand out from the smartphone crowd Grab your audience's attention with shallow depth of field that puts your subject centre stage. Movies and photos shot in low light are packed with detail and ambience. Quick and easy to use An intuitive touchscreen flips up to make vlogs and selfies a breeze. Take as much (or as little) control as you want with customizable controls that are a joy to use. Super connected with Bluetooth Pair the Canon PowerShot G7 X Mark III with your smartphone or tablet to make sharing content on-line easy. Use the Canon Camera Connect app to film or shoot yourself remotely. Technology that gives you an advantage A fast DIGIC 8 processor lets you capture photos at up to 30fps – even when shooting with RAW files, which offer the ultimate in post-production flexibility. Depth: 41 MM 20.1 megapixel 1.0-type stacked CMOS sensor 24mm wide lens with 4.2x optical zoom f/1.8-2.8 aperture DIGIC 8 processor 30fps Raw burst mode 4K movies & 3.5mm mic input 120fps Full HD movies Live Stream to YouTube Bluetooth and Wi-Fi GPS: Y Height: 60 MM LCD Size: 3 Mega Pixels: 20 NFC: N RAM Memory: No Memory Screen Size: 3 SD Card: Y Video Quality: 4k Width: 105 MM Zoom: 4XOptical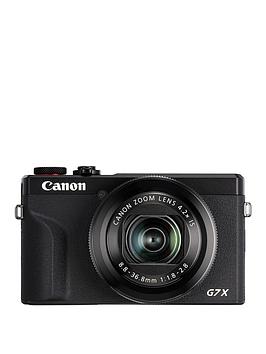 CANON POWERSHOT G7X MKIII CAMERA BLACK REVIEWS
Verified Order - Purchased On: Thursday, 25th February 2021
---
Never any problems finding just what I want with Easy Shop. With so many items to choose from and with the built in voice search it's just so easy.

Verified Order - Purchased On: Tuesday, 23rd February 2021
---
I know from my last online ordering experience at Easy Shop I know first hand that the products they sell are absolutely first class and really exceptionally high quality too.

Verified Order - Purchased On: Monday, 22nd February 2021
---
I could not believe it when I found out that this Powershot G7X Mkiii Camera Black just sold out elsewhere ... I mean I really had my heart set on this. Then I Easy Shop and thankfully they still had some left in stock!

Verified Order - Purchased On: Saturday, 20th February 2021
---
Lovely experience ordering online with Easy Shop. I ordered this Powershot G7X Mkiii Camera Black from them and it arrived the next working day.

Verified Order - Purchased On: Friday, 19th February 2021
---
Placing my order online for this Powershot G7X Mkiii Camera Black was so easy, simple and hassle free - especially with the intelligent post code address look up feature.

Verified Order - Purchased On: Wednesday, 17th February 2021
---
So after my first experience with Easy Shop I decided to order some more, and the selection of products they have on offer is second to none and the delivery is fast!