Looking For Something?
Just Ask!
Try Our New Voice Activated Search Today -

You'll Love It!
Bakugan Bakugan Dragonoid Maximus
Bakugan Dragonoid Maximus
The most powerful Bakugan in the universe has arrived - Dragonoid Maximus! This 8-inch tall figure springs open and roars to life with lights and sounds. Drop the exclusive Titan Dragonoid Bakugan ball (included) on top of Dragonoid Maximus to trigger his final evolution, activating his fierce roar and light-up power core! Plus, become the ultimate Bakugan Master and take your battles to the next level with 2 included BakuCores and 2 exclusive game cards. Explode into Baku-action with Dragonoid Maximus! Powerful, Epic Transformation Activate Dragonoid Maximus' epic transformation by dropping the included exclusive Titan Dragonoid ball on top of him. Dragonoid Maximus springs open, reaching his ultimate evolution with a powerful roar and light-up power core! You can also use any core Bakugan from your collection to trigger his transformation. 8-inch Figure with Lights and Sounds This ultra-powerful collectible Bakugan figure stands 8 inches tall and has working lights and sounds! When Dragonoid Maximus reaches his most powerful evolution, his power core will light up as he lets out a fierce roar. Push the power core button any time to trigger the lights and sounds! Exclusive Bakugan and Game Cards Dragonoid Maximus is packed with exclusives! Power up your brawling with the exclusive Titan Dragonoid and Character Card, exclusive Dragonoid Maximus Evo Card and 2 BakuCores. You won't find the highly-powerful Titan Dragonoid or Bakugan game cards anywhere else! Includes: 1 Dragonoid Maximus 1 Titan Dragonoid 2 BakuCores 1 Ability Card 1 Titan Dragonoid Character Card 1 Instruction Sheet Depth: 133.4 MM Height: 304.8 MM Width: 304.8 MM Age Range: 6+ Warning Message: Warning: Not suitable for children under 3 years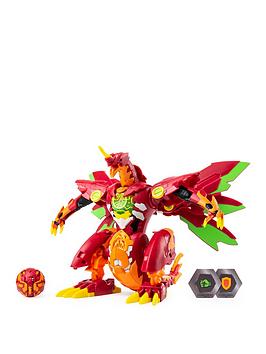 BAKUGAN DRAGONOID MAXIMUS REVIEWS
Verified Order - Purchased On: Wednesday, 21st October 2020
---
Never any problems finding just what I want with Easy Shop. With so many items to choose from and with the built in voice search it's just so easy.

Verified Order - Purchased On: Monday, 19th October 2020
---
I know from my last online ordering experience at Easy Shop I know first hand that the products they sell are absolutely first class and really exceptionally high quality too.

Verified Order - Purchased On: Sunday, 18th October 2020
---
I could not believe it when I found out that this Dragonoid Maximus just sold out elsewhere ... I mean I really had my heart set on this. Then I Easy Shop and thankfully they still had some left in stock!

Verified Order - Purchased On: Friday, 16th October 2020
---
Lovely experience ordering online with Easy Shop. I ordered this Dragonoid Maximus from them and it arrived the next working day.

Verified Order - Purchased On: Thursday, 15th October 2020
---
Placing my order online for this Dragonoid Maximus was so easy, simple and hassle free - especially with the intelligent post code address look up feature.

Verified Order - Purchased On: Tuesday, 13th October 2020
---
So after my first experience with Easy Shop I decided to order some more, and the selection of products they have on offer is second to none and the delivery is fast!